WhatsApp, the popular messaging platform, has introduced a new feature called WhatsApp Channels. This feature allows users to follow various organizations, sports teams, artists, and thought leaders within the app.
In this article, we will delve into the details of WhatsApp Channels, including their features, privacy settings, and how to create and find them.
What Are WhatsApp Channels?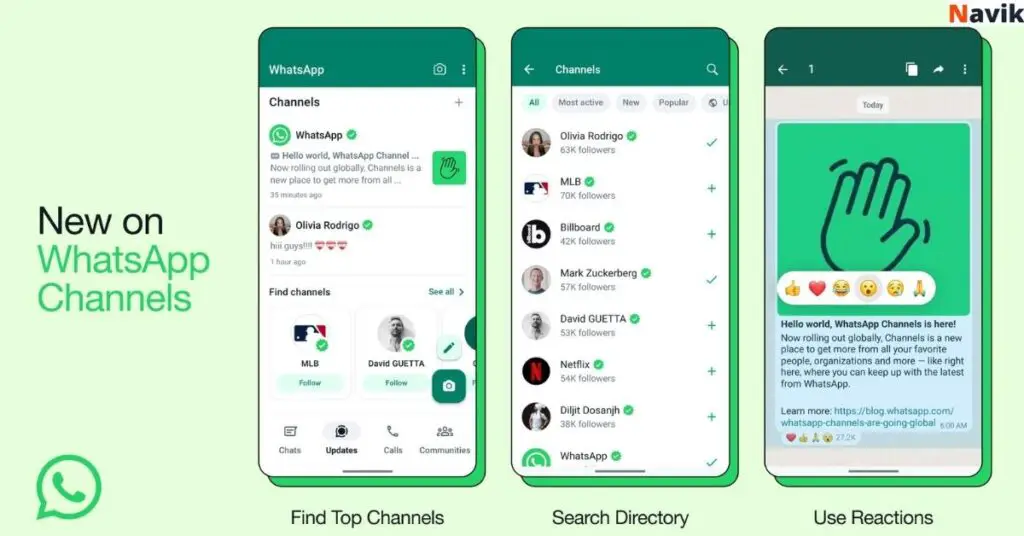 WhatsApp Channels are one-way broadcast tools that enable admins to send text, photos, videos, stickers, and polls to their followers. These channels can be found in a separate tab called "Updates" on WhatsApp, alongside the existing Status feature. Users can choose to follow channels that interest them, receiving updates from their favorite organizations and personalities.
Features of WhatsApp Channels
| Feature | WhatsApp Channels |
| --- | --- |
| Broadcast Tool | Yes |
| Supported Content | Text, photos, videos, stickers, polls |
| Availability | Rolling out globally |
| Privacy Settings | Phone number protection, channel privacy |
| Storage Duration | Up to 30 days |
| Admin Editing | Available (up to 30 days) |
| Forwarding | Includes link back to the channel |
| Reactions | Users can react using emojis |
| Recommended Channels | Based on popularity and activity |
| Verification | Verified channels have a green checkmark |
As WhatsApp expands its Channels globally, they are introducing several updates to enhance the user experience. Let's take a look at some of these features:
Enhanced Directory: Users can now find channels to follow based on their country. The directory automatically filters channels and provides options to view new, most active, and popular channels based on the number of followers.
Reactions: Users can express their feedback using emojis and see a count of total reactions. These reactions are private and not visible to other followers.
Editing: Admins will soon have the ability to make changes to their updates for up to 30 days. After this period, WhatsApp automatically deletes the updates from its servers.
Forwarding: When users forward an update to chats or groups, it includes a link back to the channel. This allows people to find out more about the update and explore the channel.
Privacy Settings for WhatsApp Channels
WhatsApp prioritizes user privacy and aims to provide the most private broadcast service available. Here are some key privacy settings for WhatsApp Channels:
Phone Number Protection: Users can follow channels without sharing their phone numbers with anyone who is not in their contacts. This ensures that users have control over who can contact them through a channel.
Channel Privacy: Following a channel does not reveal the user's phone number to the admin or other followers. Users have the freedom to choose which channels they want to follow, and this information remains private.
Limited Storage: WhatsApp stores channel history on its servers for up to 30 days. After this period, the updates are automatically deleted. Admins also have the option to block screenshots and forwards from their channel.
---
How To Create a WhatsApp Channel?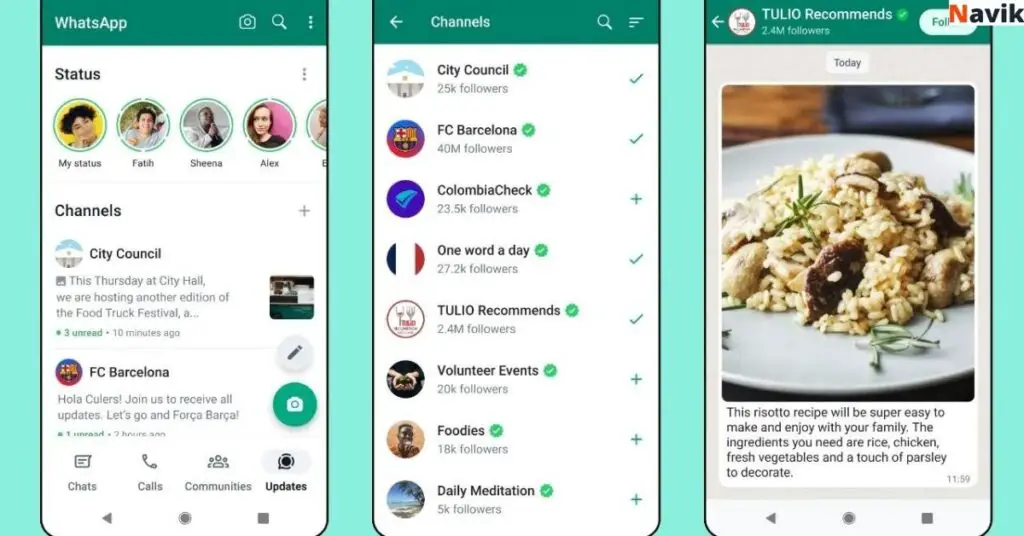 Creating a WhatsApp Channel is a straightforward process. Follow these steps to create your own channel:
Open WhatsApp on your phone and go to the 'Updates' tab.
Click on the '+' button and select 'New Channel'.
Click on 'Get Started' and follow the onscreen prompts.
Enter your channel name to finish creating your channel. You can edit the name later if needed.
Customize your channel by adding a description and icon. This helps potential followers understand what your channel is about and makes it stand out.
Click on 'Create Channel', and you're done!
Please note that WhatsApp Channels are currently rolling out and may not be available to everyone yet.
How To Get Your Channel Link?
To get your channel link, follow these steps:
Open Channels by clicking the Channels icon.
Click on your channel and then your channel name.
Click on 'Copy link'.
How To Find WhatsApp Channels?
WhatsApp provides multiple ways to find channels that interest you. Here are some methods:
Browsing the Channel List: Users can browse through the list of available channels. The list is automatically filtered based on the user's country code and language preference. However, users can explore channels from other countries and categories by adjusting the filters.
Recommended Channels: WhatsApp recommends channels to users based on their popularity and activity. Users can find these recommendations by scrolling to the bottom of the Updates tab and checking the "Find channels" section.
External Links: Channel admins can share links outside of WhatsApp to help people find their channels. These links can be used to open a channel in WhatsApp and browse updates.
Channels with a green checkmark next to their name have been verified by WhatsApp as authentic.
---
How To Follow WhatsApp Channels?
Following WhatsApp Channels is a simple process. Users have multiple options to follow a channel:
Quick Follow: Users can quickly follow a channel from the directory by tapping the plus icon next to the channel name.
Follow from Channel: Users can open a channel they are interested in and tap the "Follow" button.
Users can also follow channels from the channel info page.
---