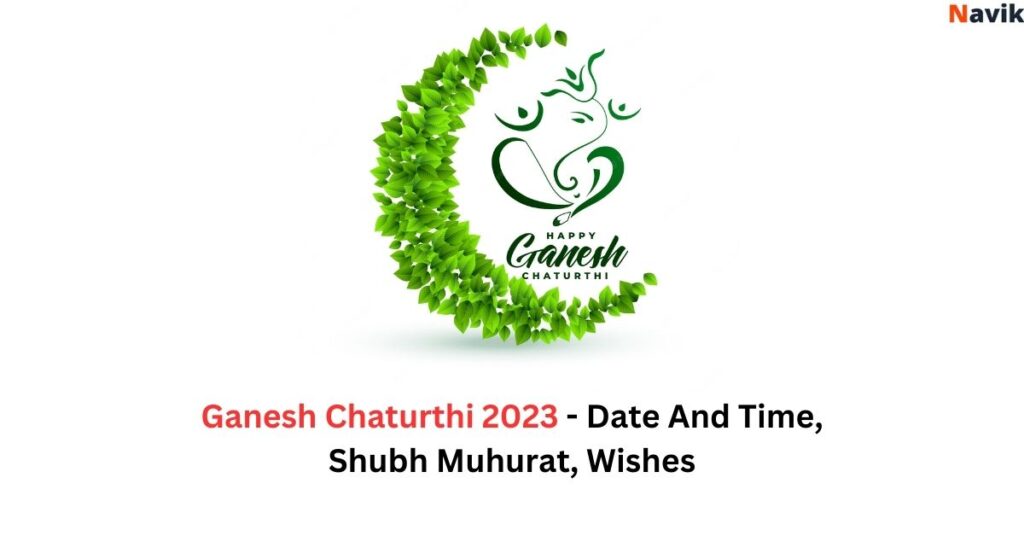 Ganesh Chaturthi is a significant festival celebrated with great joy in India. In 2023, Ganesh Chaturthi will commence on September 19th. This festival holds immense cultural and religious importance, as it marks the birth of Lord Ganesha, the elephant-headed deity who symbolizes wisdom, prudence, pleasure, and wealth.
In this article, we will explore the date and time of Ganesh Chaturthi 2023, the auspicious rituals associated with it, and the significance of this joyous occasion.
Ganesh Chaturthi 2023 Date & Time
Ganesh Chaturthi 2023 will be observed on September 19th, 2023, starting at 11:07 AM. This auspicious day is dedicated to Lord Ganesha, who is revered as the harbinger of good fortune and prosperity. It is believed that worshiping Lord Ganesha with devotion and commitment can bring immense joy, success, and prosperity into one's life.
Shubh Muhurat for Ganesh Chaturthi 2023
The installation of Lord Ganesha's idol in homes and offices on Ganesh Chaturthi holds special significance. It is believed to invite wealth and happiness into the household. For the year 2023, the most auspicious time for Ganesh Sthapna is between 11:07 AM and 01:34 PM on September 19th.
Following the Sthapna, Lord Ganesha is worshiped for ten consecutive days with elaborate ceremonies. The festival culminates on September 28th, 2023, which is known as Anant Chaturdashi, when the idol is immersed in water.
---
Rituals of Ganesh Chaturthi 2023
Ganesh Chaturthi is marked by various rituals and customs that are followed with great enthusiasm. Devotees create sculptures of Lord Ganesha in different postures. Lord Ganesha is depicted with an elephant-like head, four hands, and each hand holding a symbolic object. Some representations show Lord Ganesha holding a trident, a goad, a lotus, and a rosary. These objects symbolize various aspects of life, such as power, knowledge, sweetness, and spirituality.
During the festival, devotees offer coconut and pudding to Lord Ganesha as a gesture of reverence. Many Hindus visit temples to seek the blessings of Lord Ganesha and participate in the festivities. The festival also includes public events, such as competitions to build the largest statue and the most beautiful pandal (decorative structure) of Lord Ganesha. Additionally, artistic displays, yoga demonstrations, musical and theatrical performances, and charitable activities are organized to spread joy and help the underprivileged.
Significance of Ganesh Chaturthi 2023
Ganesh Chaturthi holds immense cultural and religious significance in Hinduism. It is believed that Lord Ganesha was born on the fourth day of the second fortnight of the Hindu lunar month of Magh, giving rise to the celebration known as Ganesha Chaturthi. This festival is an occasion to honor Lord Ganesha, who is considered the remover of obstacles and the provider of knowledge, riches, and prosperity.
The celebration of Ganesh Chaturthi gained prominence in the late 19th century when Lokmanya Tilak, an Indian independence warrior and social reformer, transformed it into a grand public event. Tilak encouraged the installation of large public idols of Lord Ganesha in pavilions, which brought communities together and fostered a sense of unity and devotion.
---
Ganesh Chaturthi 2023 Wishes
May Lord Ganesha bless you and your family with his love and happiness. Ganpati Bappa Morya!
This Ganesh Chaturthi, may Lord Ganesha bring you success and joy. Warm greetings on Ganesh Chaturthi.
May Lord Ganesha keep lighting up our lives and always bless us. Happy Ganesh Chaturthi!
On this Ganesh Chaturthi, let's hope that Ganpati ji visits our home with loads of happiness, prosperity, love, and peace. Ganpati Bappa Morya!
This Ganesh Chaturthi, let's pray and hope that Ganesha remains our guide and protector. May Ganesh ji remove all obstacles from our lives and bless us. Ganpati Bappa Morya!
Wishing you happiness as big as Lord Ganesha's appetite, a long life like his trunk, and moments as sweet as his laddus that fill your life with joy. Wishing you and your loved ones a very happy Ganesh Chaturthi!
Just as rains bless the Earth, I pray that on this year's Ganesh Chaturthi, Lord Ganesha blesses you with endless love, success, and joy. Keep smiling and chanting Ganapati Bappa Morya!
May your life be as long as Lord Ganesha's trunk, troubles as small as his mouse, and moments as sweet as modaks. Sending warm wishes on Ganesh Chaturthi! Ganpati Bappa Morya!
May Lord Ganesha, the remover of obstacles, take away all sorrows from our lives. Om Ganpati namo namah!
May the power of Deva Shree Ganesha destroy all your sorrows, enhance your happiness, and spread goodness all around you. Ganpati Bappa Morya!