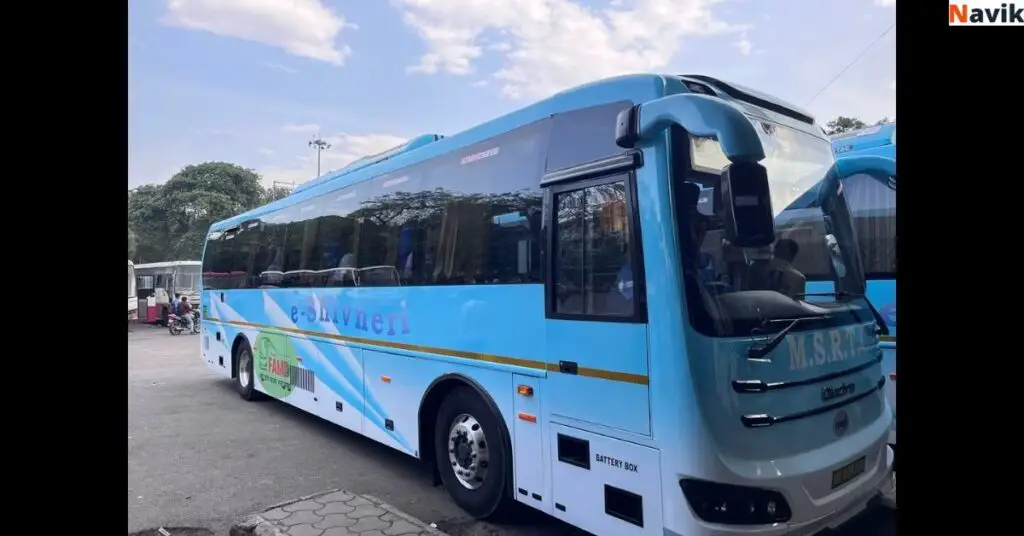 msrtc – Maharashtra State Road Transport Corporation
MSRTC is the public bus transport service of Maharastra State Government, which runs different types of 16,000 buses on 17,000 routes and provide facility to 70 lakhs passangers daily. In India MSRTC is the third largest bus service, first and second are APSRTC and TNSTC.
The corporation is the biggest fleet owner in India and provice online bus booking/reservation on all its 17000 bus routes. Apart form Maharastra, it also run buses in Gujarat, Karnataka, Andhra Pradesh, Rajasthan, Madhya Pradesh and Goa.
Below are the popular long routs of MSRTC-

Mumbai – Ahmedabad
Mumbai – Surat
Mumbai – Bangalore
Mumbai – Hyderabad
Mumbai – Udaipur
Mumbai – Goa
Mumbai – Indore
History
In 1920s bus service was started in Maharastra with no regulatory laws. Initally this bus service runs on ad-hoc manner. After the Motar Vechicle Act comes in force in 1939; standardzation of routes, schedule of buses, bus stops and regularization of fares took place.
In 1948 Bombay State Government started it's a public bus transport service, sponsored by State Government known as State Transport of Bpmbay. In same year first silver and blue topped bus raned between Pune and Ahmednagar.
In 1950 Central Government passed an Act for Road Transport Corporation, which allows State Government to establish their own Road Transport Corporation. After this act, Bompay State Transport Corporation (BSRTC) formed which later renamed as Maharastra State Road Transport Corporation, after re-organization of States.
Bus fleet and workshops
MSRTC is the lasgest bus fleet owner in India which operates 16000 buses daily. MSRTC have its own workshop for manufacturing of buses at Pune, Nagpur and Aurangabad on TATA and Ashok Lleyland. In these workshop oedinary, city buses and Asiad buses are manufactured.
The yearly manufacturing capacty of these three workshops is of 2000 buses. Apart form these three workshops MSRTC have 32 divisonal workshops for maintainance of buses and 9 tyre rereeading plants.
---
MSRTC Shivneri Bus Timetable:
Route
Departure Time
Fare
Dadar-Pune
(Via Chinchwad)
05.31, 06.01, 06.31, 07.01, 07.31, 08.01, 08.31, 09.01, 09.31, 10.01, 10.31, 11.01, 11.31, 12.01, 12.31, 13.01, 13.31, 14.01, 14.31, 15.01, 15.31, 16.01, 16.31, 17.01, 17.31, 18.01, 18.31, 19.01, 19.31, 20.01, 20.31, 21.01
Adult:310+10
Child:155+10
Pune-Dadar
(Via Chinchwad)
05.31, 06.01, 06.31, 07.01, 07.31, 08.01, 08.31, 09.01, 09.31, 10.01, 10.31, 11.01, 11.31, 12.01, 12.31, 13.01, 13.31, 14.01, 14.31, 15.01, 15.31, 16.01, 16.31, 17.01, 17.31, 18.01, 18.31, 19.01, 19.31, 20.01, 20.31, 21.01
Adult:310+10
Child:155+10
Dadar-Pune
(Via Aundh Parihar Chowk)
05.30, 05.45, 06.00, 06.15, 06.30, 06.45, 07.00, 07.15, 07.30, 07.45, 08.00, 08.15, 08.30, 08.45, 09.00, 09.15, 09.30, 09.45, 10.00, 10.15, 10.30, 10.45, 11.00, 11.15, 11.30, 11.45, 12.00, 12.15, 12.30, 12.45, 13.00, 13.15, 13.30, 13.45, 14.00, 14.15, 14.30, 14.45, 15.00, 15.15, 15.30, 15.45, 16.00, 16.15, 16.30, 16.45, 17.00, 17.15, 17.30, 17.45, 18.00, 18.15, 18.30, 18.45, 19.00, 19.15, 19.30, 19.45, 20.00, 20.15, 20.30, 20.45, 21.00, 21.30, 22.00, 22.30, 23.00, 00.00
Adult:310+10
Child:155+10
Pune-Dadar
(Via Aundh Parihar Chowk)
05.30, 05.45, 06.00, 06.15, 06.30, 06.45, 07.00, 07.15, 07.30, 07.45, 08.00, 08.15, 08.30, 08.45, 09.00, 09.15, 09.30, 09.45, 10.00, 10.15, 10.30, 10.45, 11.00, 11.15, 11.30, 11.45, 12.00, 12.15, 12.30, 12.45, 13.00, 13.15, 13.30, 13.45, 14.00, 14.15, 14.30, 14.45, 15.00, 15.15, 15.30, 15.45, 16.00, 16.15, 16.30, 16.45, 17.00, 17.15, 17.30, 17.45, 18.00, 18.15, 18.30, 18.45, 19.00, 19.15, 19.30, 19.45, 20.00, 20.15, 20.30, 20.45, 21.00, 21.30, 22.00, 22.30, 23.00, 00.00
Adult:310+10
Child:155+10
Swargate-
Borivali
05.30, 06.30, 07.30, 08.30, 09.30, 10.30, 11.30, 12.30, 13.30, 14.30, 15.30, 16.30, 17.30, 18.30, 19.30, 21.30, 22.30
Adult:380+10 Child:190+10
Borivali-
Swargate
05.30, 06.30, 07.30, 08.30, 09.30, 10.30, 11.30, 12.30, 13.30, 14.30, 15.30, 16.30, 17.30, 18.30, 19.30, 21.30, 22.30
Adult:380+10 Child:190+10
Thane-
Swargate
06.00, 06.30, 07.00, 07.30, 08.00, 08.30, 09.00, 09.30, 10.00, 10.30, 11.00, 11.30, 12.00, 12.30, 13.00, 13.30, 14.00, 14.30, 15.00, 15.30, 16.00, 16.30, 17.00, 17.30, 18.00, 18.30, 19.00, 19.30, 20.00, 20.30, 21.00, 21.30
Adult:310+10
Child:155+10
Swargate-
Thane
06.00, 06.30, 07.00, 07.30, 08.00, 08.30, 09.00, 09.30, 10.00, 10.30, 11.00, 11.30, 12.00, 12.30, 13.00, 13.30, 14.00, 14.30, 15.00, 15.30, 16.00, 16.30, 17.00, 17.30, 18.00, 18.30, 19.00, 19.30, 20.00, 20.30, 21.00, 21.30
Adult:310+10
Child:155+10
Pune-
Aurangabad
06.00, 07.00, 08.00, 09.00, 10.00, 11.00, 12.00, 13.00, 14.00, 15.00, 16.00, 17.00, 18.00, 19.00, 20.00, 21.00, 22.30, 23.30
Adult:460+10
Child:230+10
Aurangabad-
Pune
06.00, 07.00, 08.00, 09.00, 10.00, 11.00, 12.00, 13.00, 14.00, 15.00, 16.00, 17.00, 18.00, 19.00, 20.00, 21.00, 22.30, 23.30
Adult:460+10
Child:230+10
Nashik-Pune
06.00, 07.00, 12.30, 13.30, 18.30, 19.30
Adult:425+10
Child:215+10
Pune-Nashik
06.00, 07.00, 12.30, 13.30, 18.30, 19.30
Adult:425+10
Child:215+10
Swargate-
Bangalore
18.00
Adult:900
Child:560
Bangalore-
Swargate
18.15
Adult:900
Child:560
Mumbai-
Bangalore
12.00
Adult:1005
Child:570
Bangalore-
Mumbai
16.30
Adult:1005
Child:570
Sangli-
Pune Rly.Stn.
06.30, 11.30, 17.00
Adult:462+10
Child:231+10
Pune Rly.Stn.-
Sangli
06.30, 11.30, 17.30
Adult:462+10
Child:231+10
Kolhapur-
Pune Rly.Stn.
06.15, 08.00, 12.00, 13.30, 17.00, 18.30
Adult:462+10
Child:231+10
Pune Rly.Stn.-
Kolhapur
06.00, 08.00, 12.00, 13.30, 17.00, 18.30
Adult:462+10
Child:231+10
---